Welcome to

Clever

Stop

Driving School Drogheda
Here at Clever Stop Driving School you will be inspired to learn and improve upon your driving skills. Margaret is a fully qualified and registered driving instructor with the Road Safety Authority. Our approach to teaching is client centred and pupils will be encouraged to enjoy learning and understand the importance of safe driving in a relaxed and calm manner. Your Instructor Margaret can offer updated experience and knowledge in Driving Instruction thanks to one of the highest regarded trainers in Ireland - Mr. Colm Branigan.
We offer Competitive prices for Essential Driver Training(EDT) lessons and pretest lessons for Category B(manual car). We provide the pupil with their EDT log book which is their record of lessons.
​
In addition to EDT lessons, we offer the pupil the choice of sponsor lessons, where general driving can be practiced and improved with our Driving Instructor after the 12 EDT lessons are completed.
​
You will have the option of hiring our dual controlled training car on the day of your driving test if required.
At Clever Stop driving school we offer pretest lessons at driving test centres such as Dundalk, Drogheda, Navan and Finglas.
We offer home pick up and drop off where possible.
We offer tailored learning approaches and listen to the pupils needs.
You the pupil have the option of pay as you go lessons or can choose block booking and receive a discount.
The training vehicle provided shall be kept tidy and hygienic.
EDT lessons shall be uploaded to the RSA Portal weekly.
Study for your driver's theory test
Book your theory test and pass
Apply for learners permit from your local NDLS office.
Book your driving lessons with us at Clever Stop driving school.
When you have completed these steps, then we work together for your driving goals!
Frequently

asked questions
Apa itu waitlist challenge?
---
Sebuah periode di mana kamu berkesempatan untuk mendapatkan akses eksklusif lebih cepat ke aplikasi Nanovest, dan juga mendapatkan rewards yang menarik! Kamu bisa menang 100.000 NanoByte Token (NBT) dalam periode ini. Kunjungi nanobytetoken.io untuk pelajari lebih lanjut mengenai NBT.
---
Apa itu NanoByte Token (NBT)?
---
NBT adalah crypto token dari Nanovest. Kamu bisa dapetin NBT dengan download Nanovest & ikutan waitlist challenge. Selain itu, kamu juga bisa dapet NBT dengan ngelakuin berbagai aktivitas dan transaksi setelah kamu dapat full access ke semua fitur di Nanovest.
---
Kapan saya bisa mulai investasi saham & aset kripto di Nanovest?
---
Saat ini, aplikasi Nanovest sedang dalam rilis terbatas. Kamu bisa mulai investasi setelah kamu dirilis dari waitlist. Kami akan memulai proses rilis pada 10 Desember 2021. Semakin tinggi posisimu di waitlist challenge, semakin cepat kamu dirilis & bisa menikmati seluruh fitur di Nanovest! Ayo download Nanovest & join waitlist sekarang dan jadilah yang pertama untuk nikmati semua fiturnya!
---
Apa itu Nanovest?
---
Nanovest adalah aplikasi investasi revolusioner di Indonesia. Di sini, kamu bisa investasi saham luar negeri & aset kripto dalam satu aplikasi, pertama di Indonesia. Selain itu, kamu bisa transfer uang gratis ke siapa pun & kapan pun! Semua investasi di Nanovest mulai dari Rp 5ribu aja, bebas biaya transaksi, dan tentunya gampang banget. Kamu juga bisa dapetin berbagai hadiah menarik, mulai dari uang, aset kripto, dan masih banyak lagi. Jadi, yuk download Nanovest & ikutan waitlist sekarang!
---
Sampai kapan waitlist challenge akan berlangsung?
---
Waitlist challenge dimulai pada 22 November 2021 dan akan berakhir pada 10 Desember 2021.
---
Apa yang terjadi ketika saya masih berada di dalam waitlist?
---
Kami berusaha keras untuk menghadirkan Nanovest secepatnya kepada kamu. Kami akan merilis semua user secepat mungkin, dan tentu saja kamu akan diberi tahu jika sudah dirilis! Penasaran dengan aplikasi Nanovest? Yuk, intip lebih lanjut di bagian "News" di halaman Utama aplikasi Nanovest
---
Bagaimana cara kerja waitlist challenge?
---
Setelah kamu daftar ke Nanovest, kamu bisa lihat posisimu di waitlist / daftar tunggu. Ajak teman ke Nanovest sebanyak-banyaknya pake kode referral kamu. Saat temanmu daftar ke Nanovest pake kode referralmu, posisimu di waitlist akan naik. Kamu dan temanmu juga akan dapat masing-masing 20 NBT.
Selain itu, kamu juga bisa menang 100.000 NBT tergantung dengan posisimu di akhir periode waitlist challenge (lihat tabel di bawah):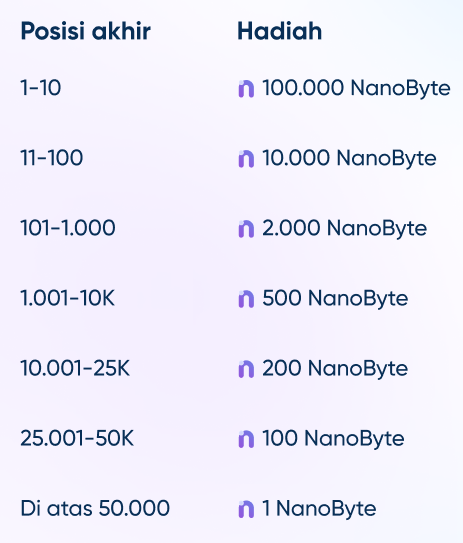 ---
---